Kindergarten
Playing while learning or learning while playing? What a curious idea to oppose the two! It was adults who invented the difference between leisure and learning. For children, the pleasure of discovery and the desire to learn are the most natural things in the world, and we sometimes frustrate them by making them wait. All we need to do is follow their development and respect their maturity, by offering appropriate activities and discoveries at the right time…
Learning a second language is easier and more spontaneous when children start at a younger age. All they have to do is play with the teacher, sing songs and answer questions; in the afternoon, they can discuss their new discoveries with the teachers, each in their own language.
Kindergarten starts at 3 (like in France the "petite section") for those who are ready, with more flexible timetables. From the age of 4, the big school begins. To enter Kindergarten at EBSR, children must be able to use the toilet independently and no longer need a real nap (we offer a quiet time).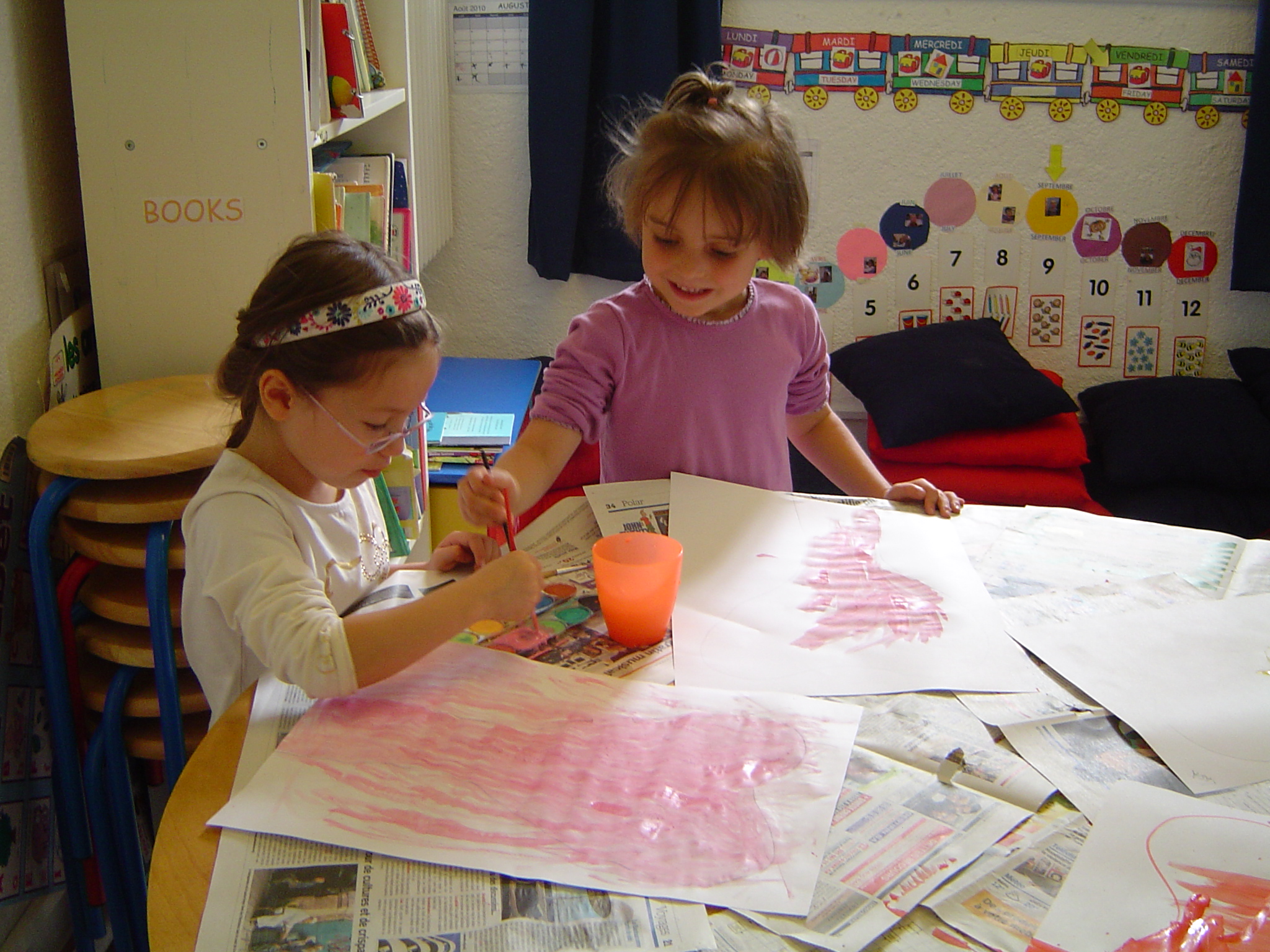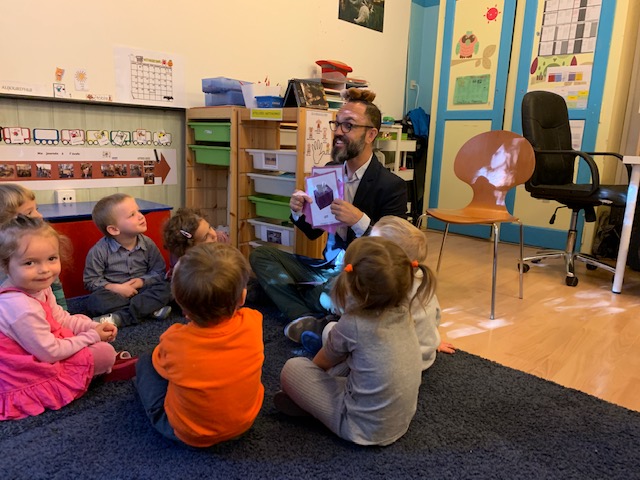 Learning French
The school practises equal bilingualism (50%-50%) for its young pupils.
As soon as they start school, English-speaking children follow two years of interactive French immersion, followed by a transition year. Our playful, active method reproduces the natural way of learning and is completely focused on the spoken word: through games, songs and a variety of activities, children are encouraged to speak. From Year 3 onwards, elements of the French curriculum are gradually incorporated, and the curriculum then becomes completely bilingual (native speakers in both languages).
One hour a day is devoted exclusively to speaking in small groups; at least half the rest of the day is spent with a native French-speaking teacher, who speaks to the child in French and encourages him or her to respond.
Learning to read
Children love to see those mysterious signs finally make sense.
We start reading as soon as the children arrive at school at the age of 3 or 4, with a gentle start at their own pace. The first concepts are covered together, then the approach is individualised in small workshops. Our approach is syllabic, and we ensure that phonological awareness is firmly established.
The children learn to read with Letterland (the English equivalent of Planète des Alphas); writing is introduced at the same time and we take care to link letter and sound. Most children are able to decode simple texts correctly and understand what they are reading by the end of nursery school, but this also depends on their age and maturity: the complex spellings of English are reviewed and consolidated in 1st Primary.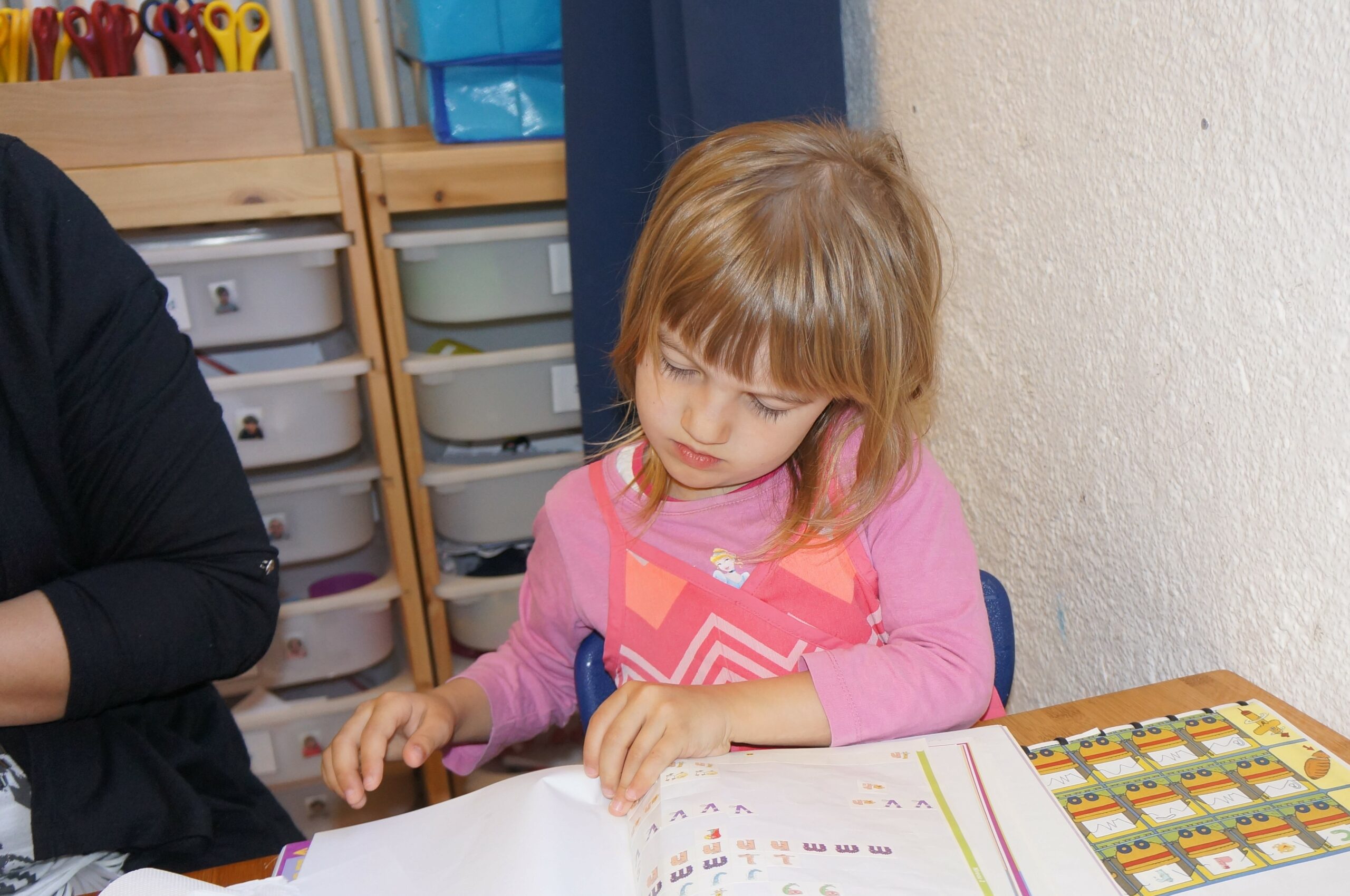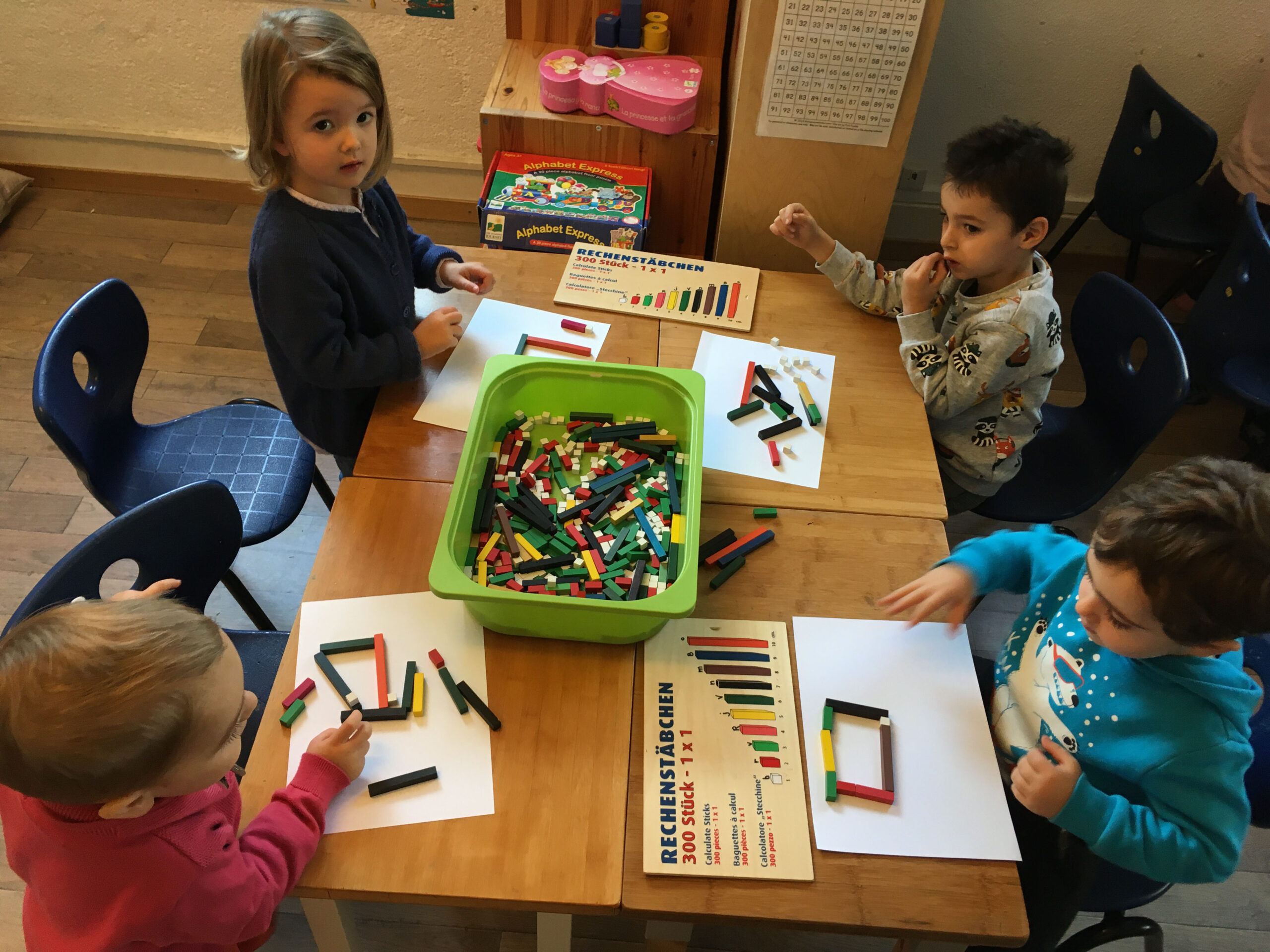 Understanding maths
Children are introduced to maths in small workshops using the Cuisenaire method (the famous "coloured number" rulers), which enables them to understand the world of numbers intuitively, with their fingers! This approach, which we use up to 1st Primary, is unique in that it introduces children to the 4 operations and fractions at the same time. In our experience, this provides a very solid foundation for the rest of the course, because the children really understand what they're doing in a fun way.
We also use the Singapore textbooks for numbering. By the end of Kindergarten, most pupils have worked on the 4 operations up to the number 12, have mastered the decimal system up to at least 100 and know how to do small additions and subtractions with larger numbers.
Montessori workshops
EBSR places great emphasis on encouraging pupils to be independent and to develop their sense of responsibility. Our system of individualisation encourages pupils to be active in their learning and to develop their creativity and perseverance.
Every day, the children are offered Montessori workshops that are adapted and chosen for their relevance. After an initial demonstration, they are encouraged to explore freely and engage in independent problem-solving.
Many of the workshops also appeal to their logical sense and their ability to observe accurately. They can sort and classify objects, order series, manipulate and tidy up, spot fine details, etc. By improving their results each time, the children learn to have confidence in their abilities and their sense of initiative.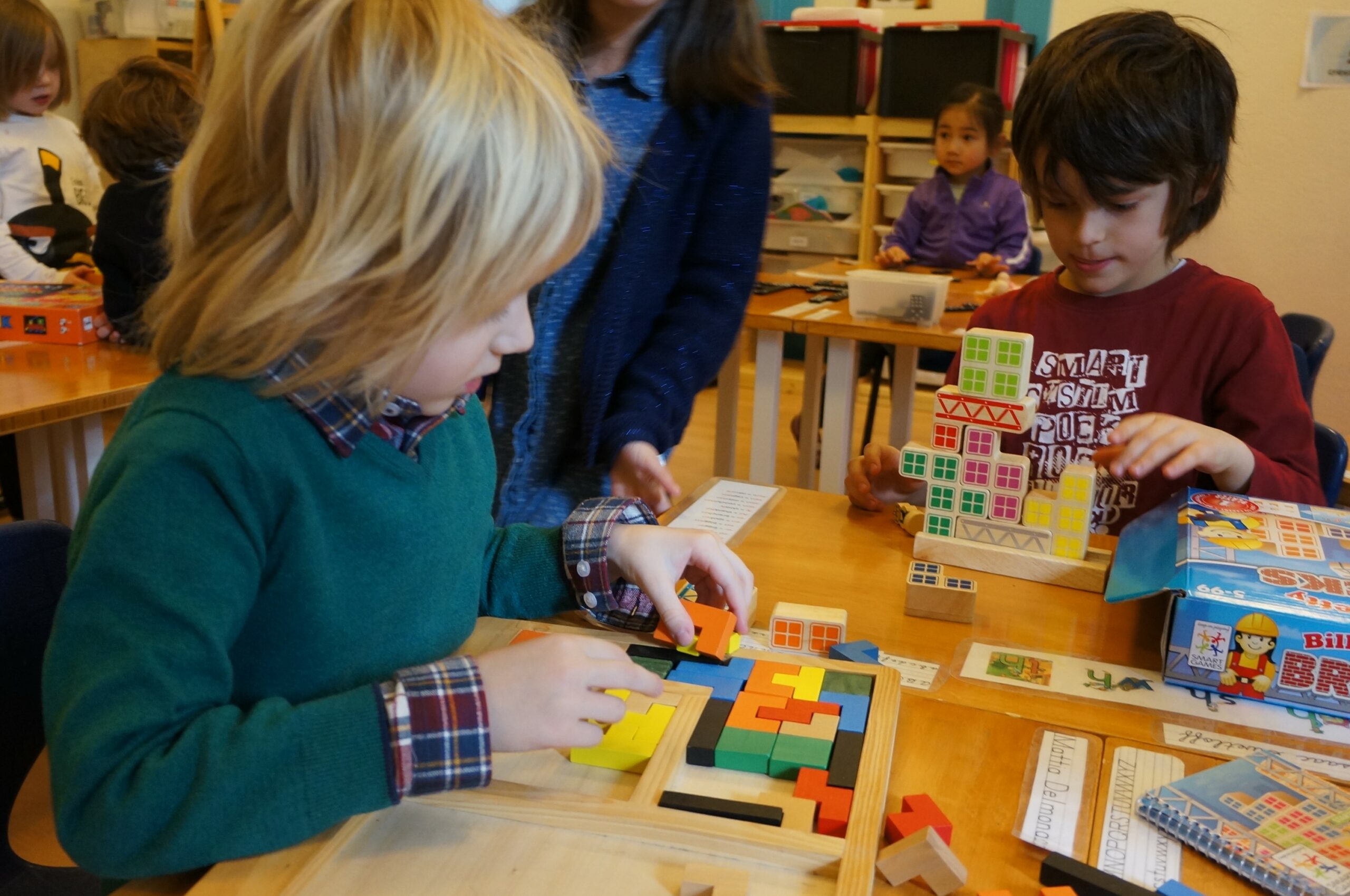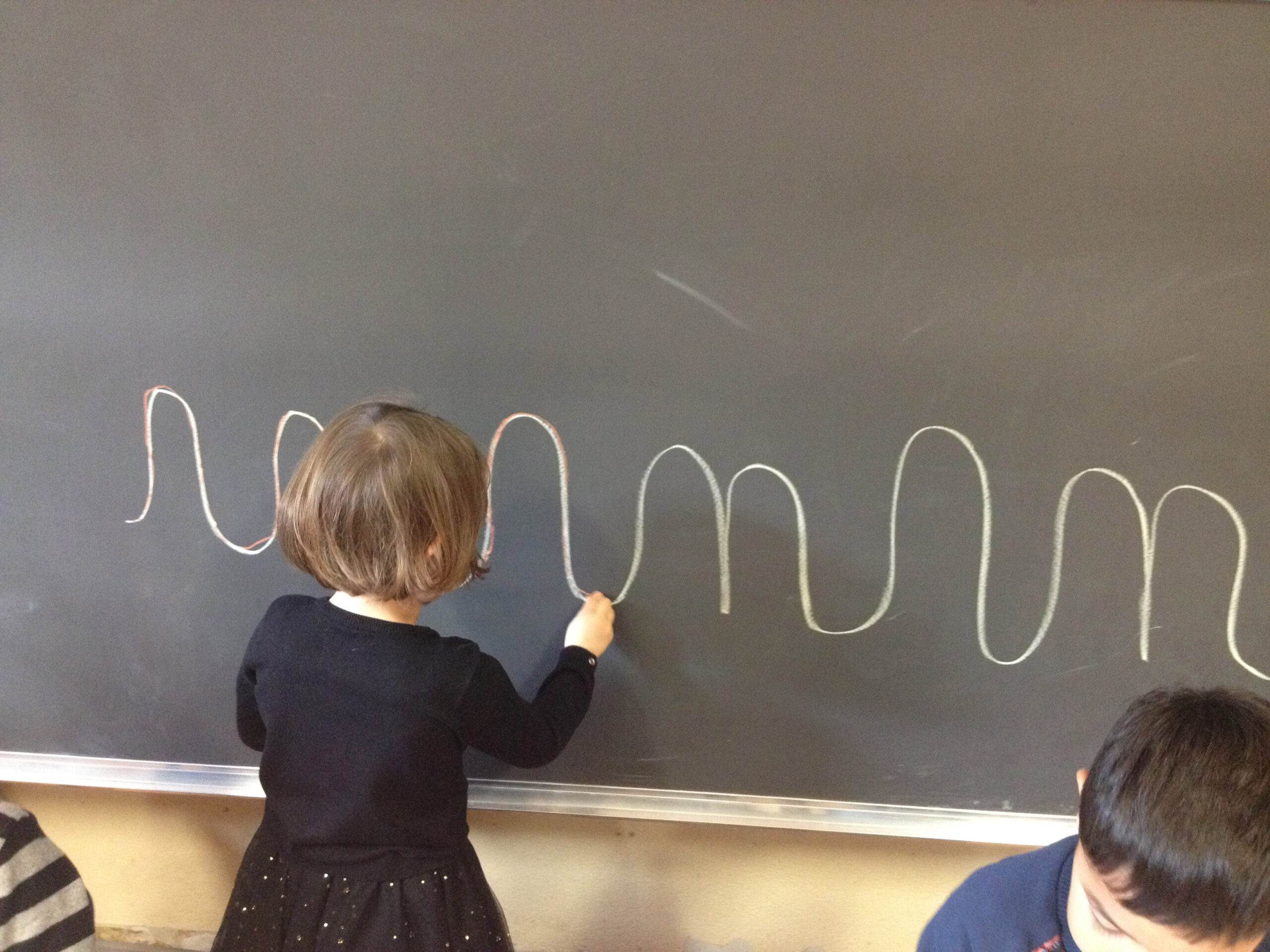 Writing and drawing
Being able to write legibly will remain a necessity, even with sophisticated computers… Using your hands with precision, whether to write or draw, will certainly not go out of fashion any time soon.
Learning to write with good handwriting is easy if you do a bit of graphic design regularly. Little by little, the gesture takes shape, and the child acquires more and more ease.
Every day, children work on their manual dexterity with a variety of activities that involve both skill and reflection. They progress step by step, according to an individual progression plan for each child.
This gentle, early start ensures that every pupil arrives at primary school able to put words into writing.
Outings and visits
Kindergarten students go out about once a month to visit museums and other places of interest.
The visits are linked to the science curriculum: for example, going to the market and buying vegetables, after learning how money works; enjoying a guided tour of Chillon Castle, after a module on life in the Middle Ages; going to the Musée de la Riponne to see minerals in real life; visiting Electrobroc after building electrical circuits…
The children love these visits, which help them discover new horizons and the "grown-up world"; they learn to take responsibility and adapt their behaviour in a group. And they have lots to talk about when they come back!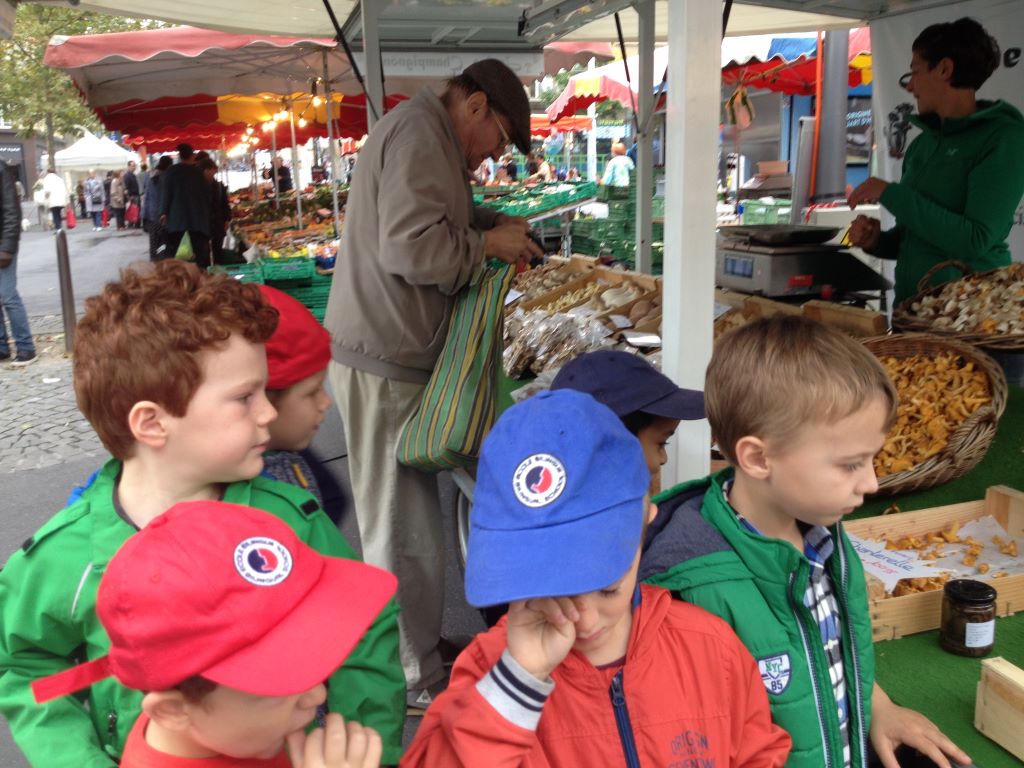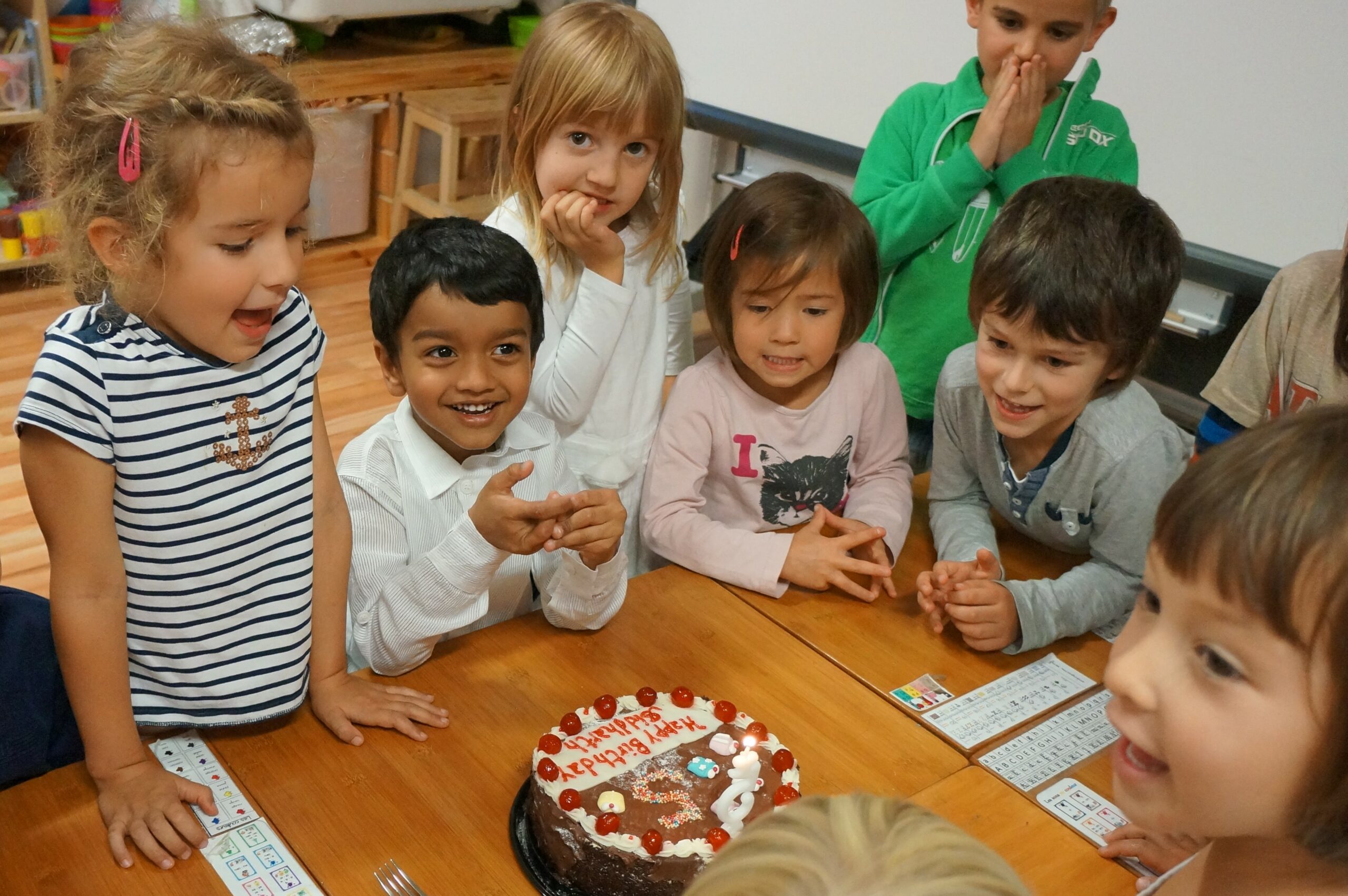 Delicious meals
Our meals are specially prepared on site with fresh ingredients by the kitchen team; they are balanced and got the "Fourchette Verte" label ("green fork"), with a salad as a starter, a main course comprising some starch, vegetables and some proteins; the children are invited to try everything. A small dessert, fruit or dairy product completes the menu.
Our cook also takes care to respect the dietary requirements of those with allergies or other special needs.
Find out more about this week's menus here!
We also enjoy celebrating birthdays, and are happy to share a cake with the children!
Breaks and games
Our large playground is framed by a wisteria, grapes and tall bamboos, and features a beautiful flower garden, shade trees and a vegetable patch. There's a climbing frame and a large sandpit for fun.
Nothing is more important than free play for developing independence, self-confidence and respect for others. Our large sandpit stimulates the spirit of construction and exploration; the small multi-seater tricycles encourage cooperation and exercise.
The children have two long half-hour breaks to play outside during the school day; in principle, they go out in all weathers, except if it's raining or snowing too much. Those taking part in after-school activities can enjoy the playground until closing time.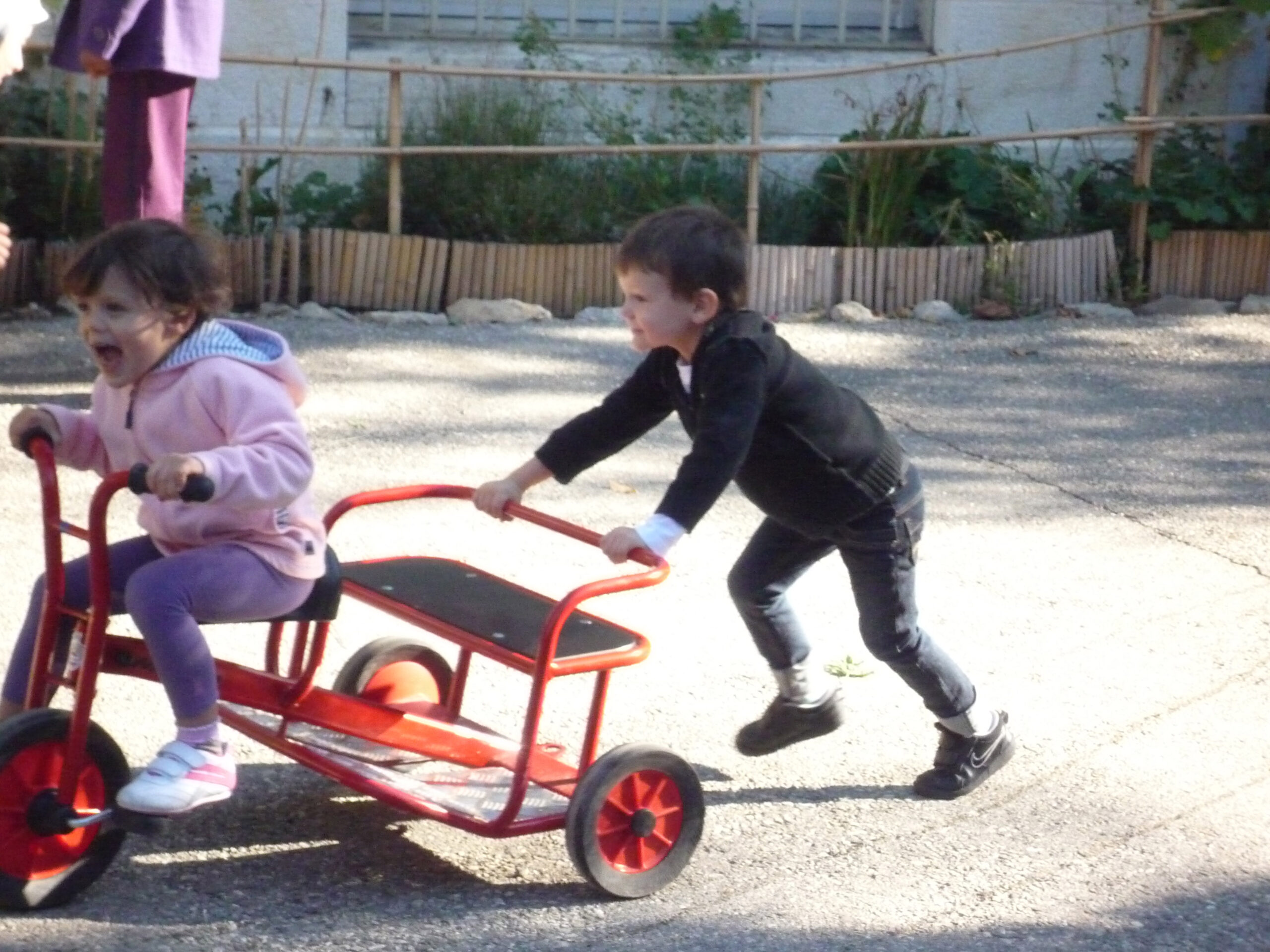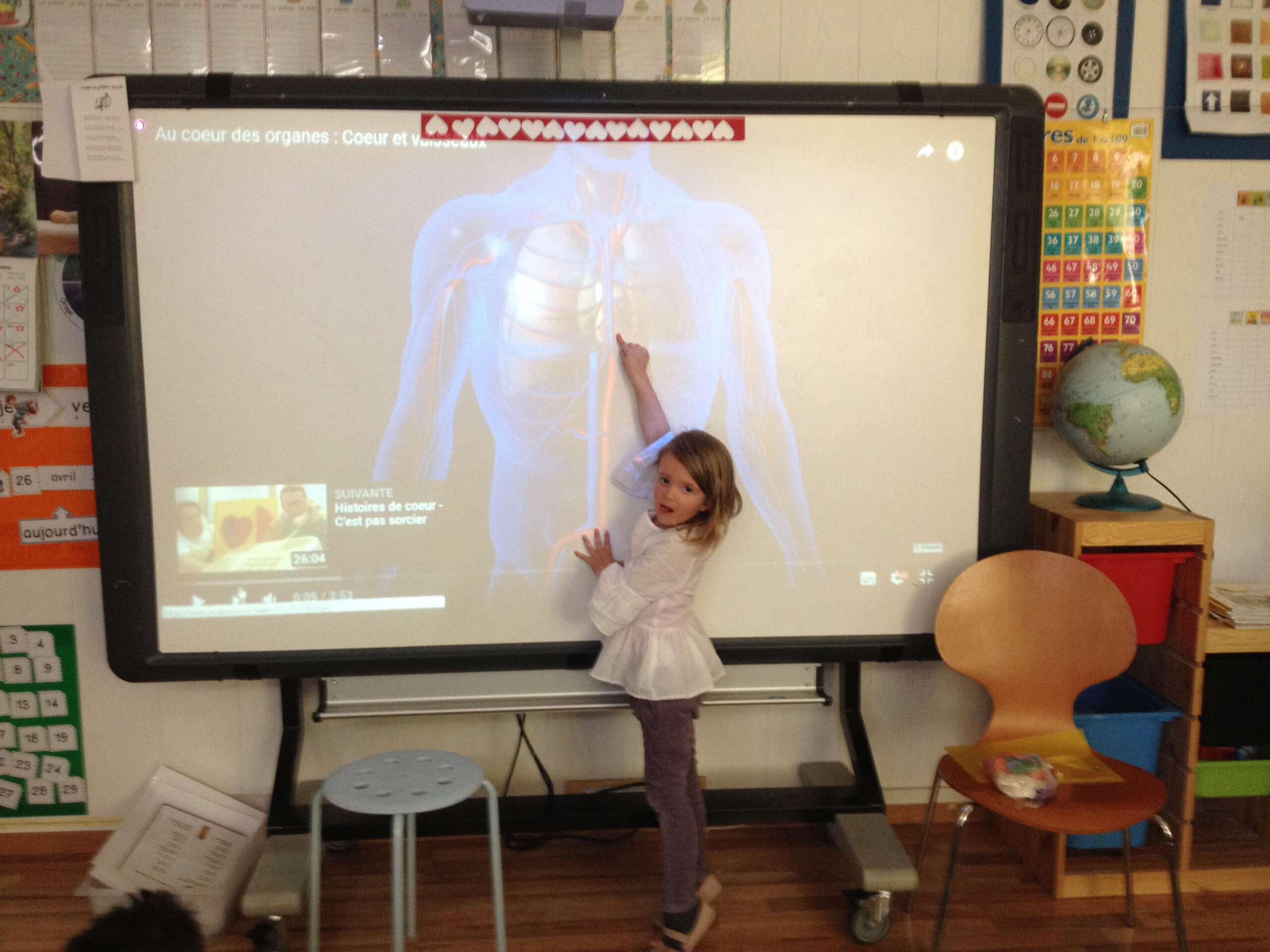 Budding scientists
After a quiet time to rest and take a break in the playground, the afternoon's activities begin again. The discoveries are themed and allow the children to explore the world, whether it's the living world, other countries, the past or the planets. We regularly raise animals – ants and ladybirds, for example; make crafts – the circle of planets, for example; build things – a castle with all its battlements, for instance, and we regularly organise visits and outings.
Lego and STEM (Science, Technology, Engineering and Mathematics) workshops specially designed to stimulate problem-solving are organised on Fridays alongside the art classes.
Festivities
Who wants to miss the chance to party? The children's classes all celebrate, with crafts, baked goods and special activities.
At Halloween we put on make-up, dress up and make witches' fingers; parents are invited to go trick-or-treating after school, and we roast marshmallows.
At Christmas we prepare beautiful presents and drink hot chocolate, at Candlemas we make pancakes, at Easter we prepare beautiful eggs for the egg hunt, and for Mother's Day we secretly prepare a lovely surprise.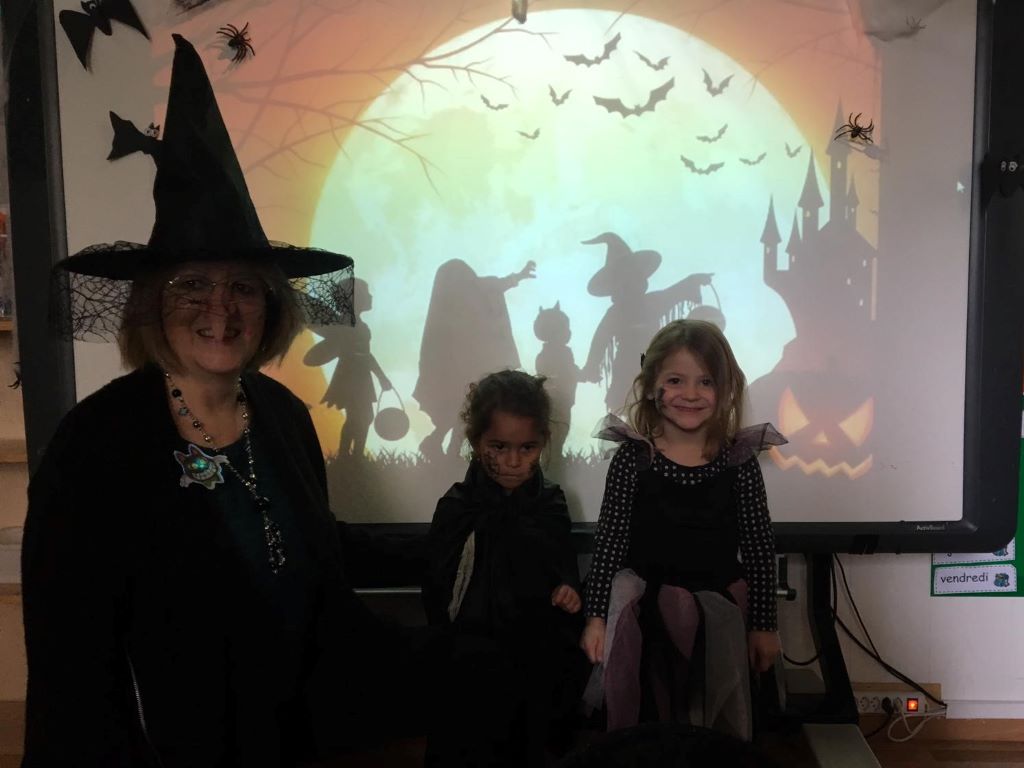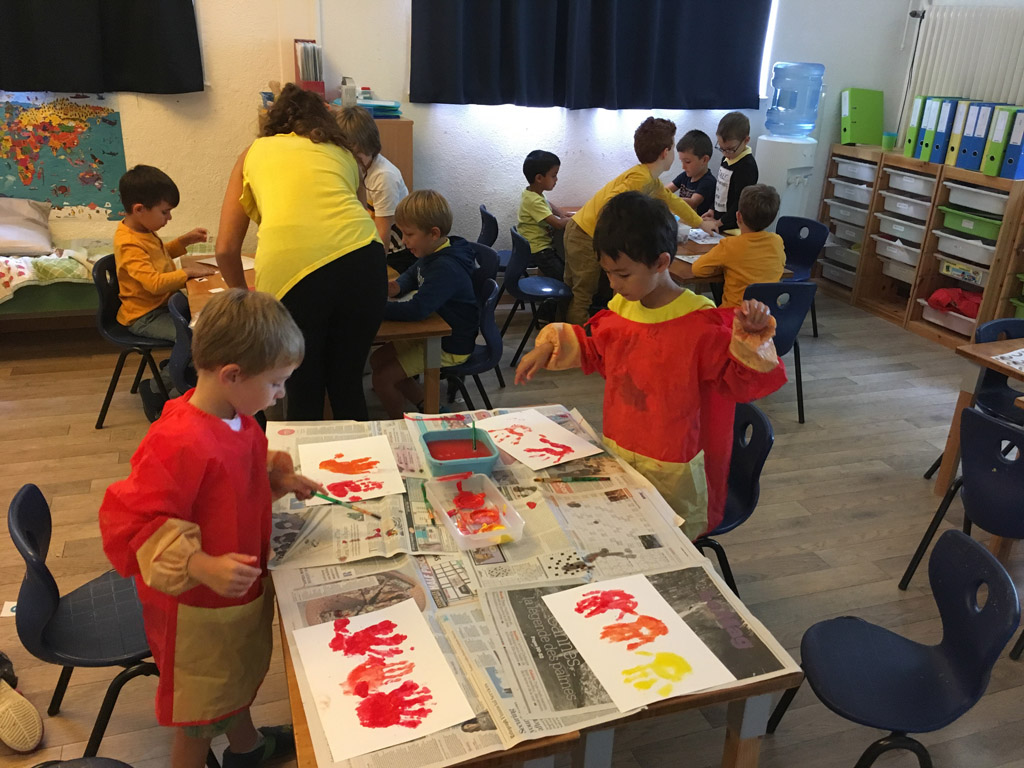 Art
Notre professeur d'art prend les enfants par petits groupes et leur fait découvrir toute sorte de techniques artistiques, de modelage, de peinture ou de travail sur papier.
En coordination avec les professeurs titulaires et en lien avec les programmes, les activités proposées permettent aux enfants d'explorer de nouvelles possibilités d'expression et de développer leur sens artistique. Aquérir une technique, observer un objet, peindre ou modeler permet d'élargir sa vision du monde et de découvrir les possibilités insoupçonnées.
Le plaisir que prennent les enfants à utiliser leurs dix doigts pour tant de créativité se voit dès qu'on les observant, et ils sont très fiers de ramener leurs réalisations à la maison!
Sport
Kindergarten pupils have two long recesses every day where they can run around and play. Sport lessons therefore concentrate on the more specific gross motor skills. They learn to throw and to catch, to turn and to roll, to balance and keep still; other exercises work with dance and rhythm, and the children have a lot of fun imitating animals or working together with their peers to improve their results.
Our pupils love the sports program and anticipate each class with great enthusiasm !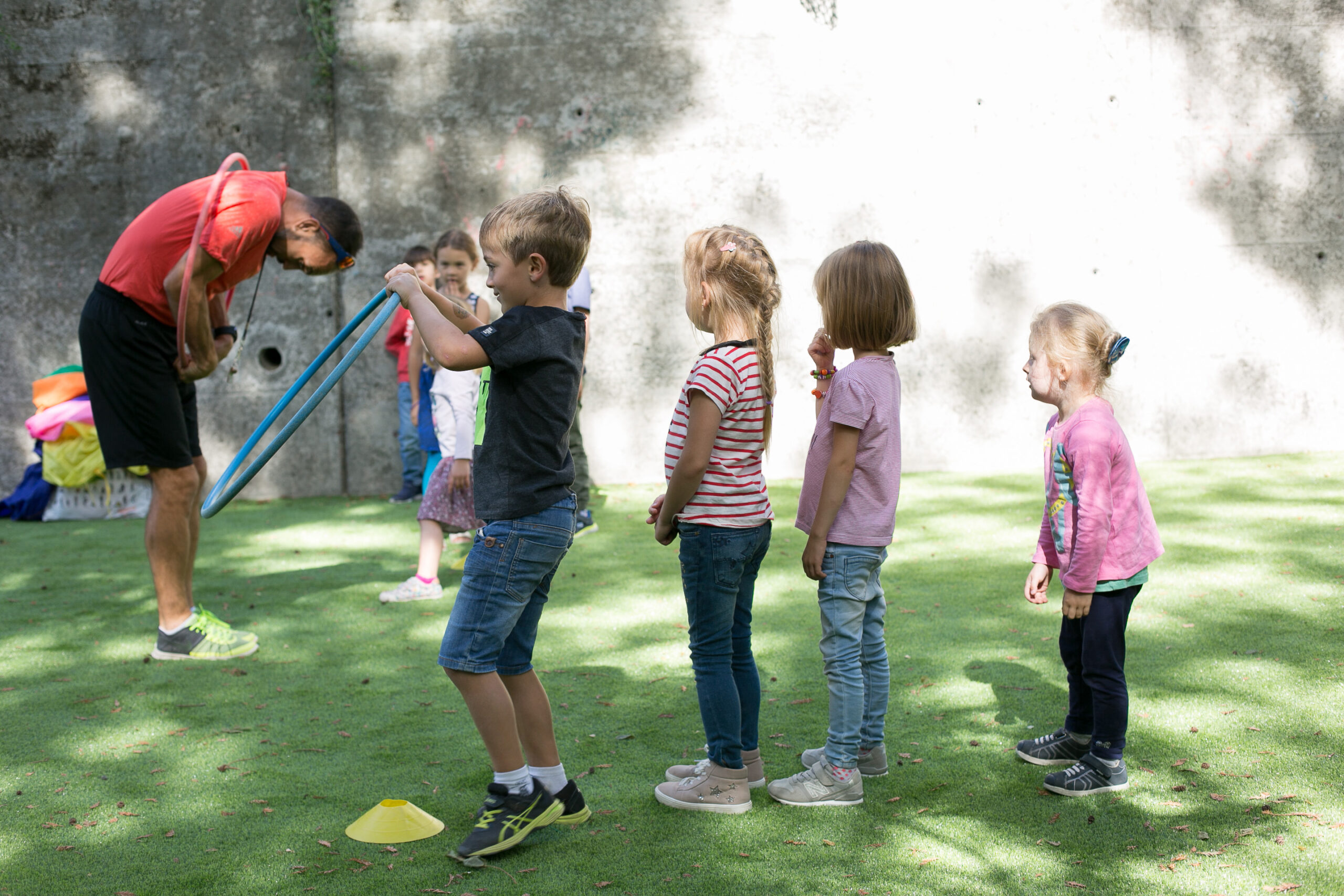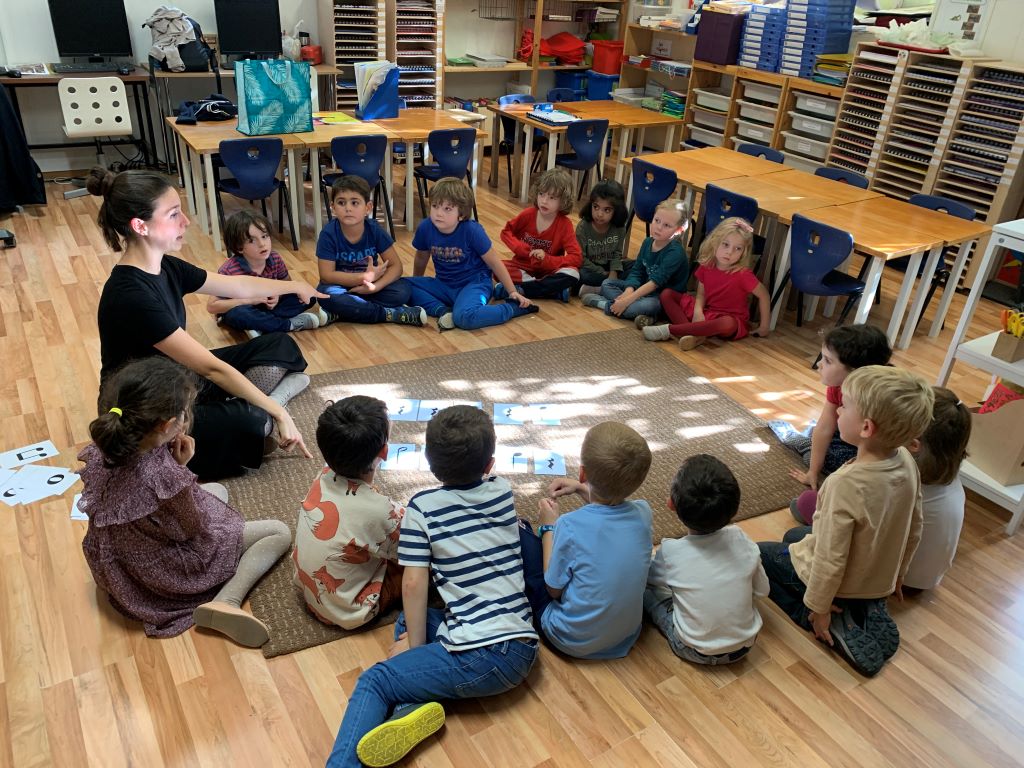 Music
Music develops listening, sharing and respect, and plays a very important role in language learning. Children who sing often and know how to listen and repeat rhythms and melodies find it easier to learn languages.
Music lessons are given by a specialist teacher, who takes each level group for progressive and varied teaching. Children learn through fun activities, songs, rhythmic training and movement.
Christmas choir
For Christmas, of course, there's the secret preparation of a beautiful present, but also a little show of Christmas songs, in French, English and sometimes even other languages.
The little ones put all their heart into playing and interpreting the songs, much to the admiration of the parents!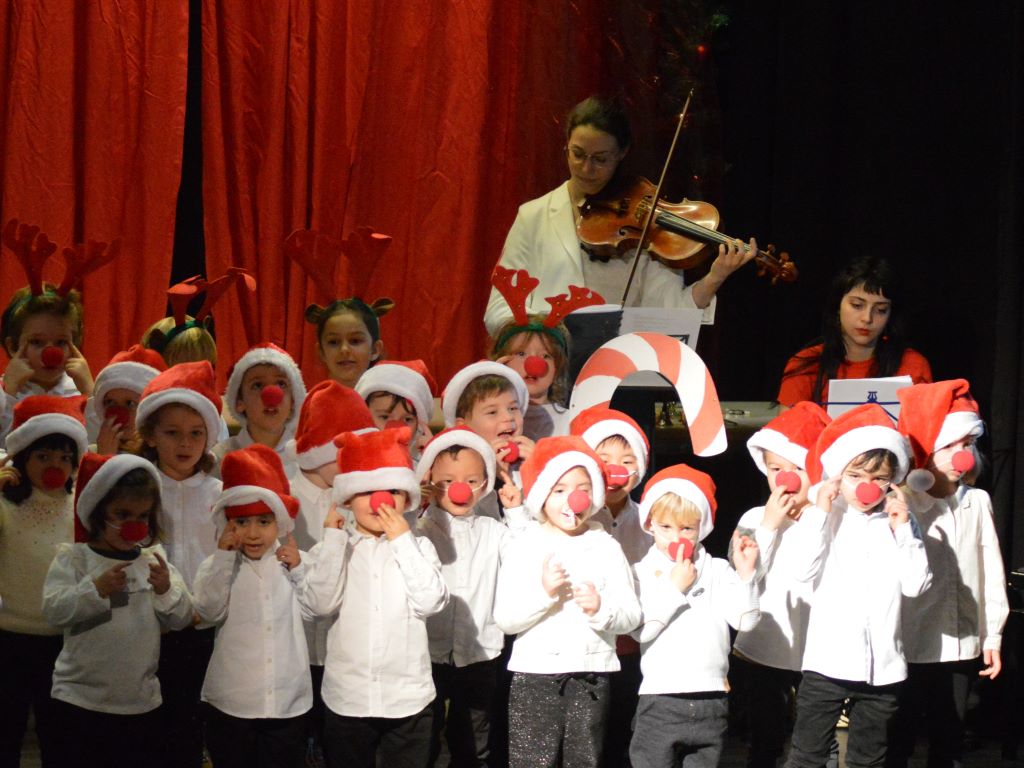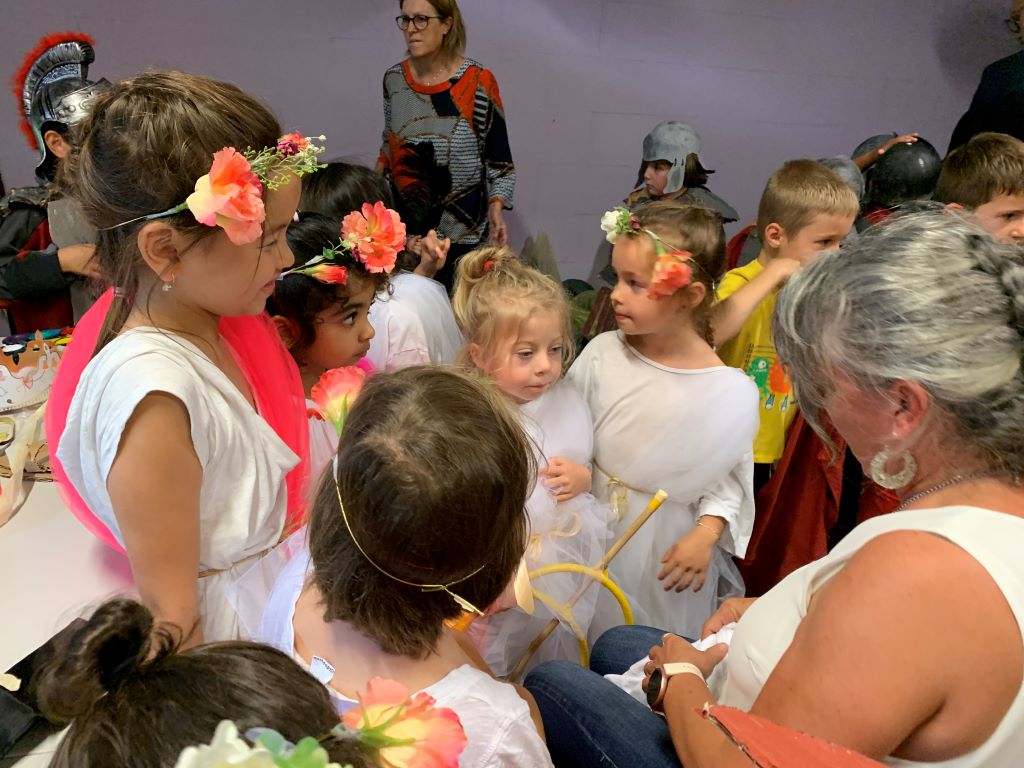 End-of-year theatre play
Dress up as a legionnaire or a princess, depending on the year's theme. Practise your steps, movements and lines. Follow the others without getting distracted.
The Kindergarten team puts its heart and soul into creating a fun little bilingual show with the children, which is worked on throughout June. Music, sets, costumes – nothing is left to chance.
Who is prouder, the child who plays their part in the play or the parent who admires their prowess? In any case, it's always a great time of laughter and fun.
Sports games
Twice a year parents, friends and family are invited to share with us the excitement and experiences of sports that children learn at EBSR.
On these days, you will get a first hand insight into the delights and smiles that everyone brings during the sports games presented that display team work, coordination, balance. It is also a highlight of the year where students receive a special sports day diploma for their efforts!
Certainly a day not to be missed!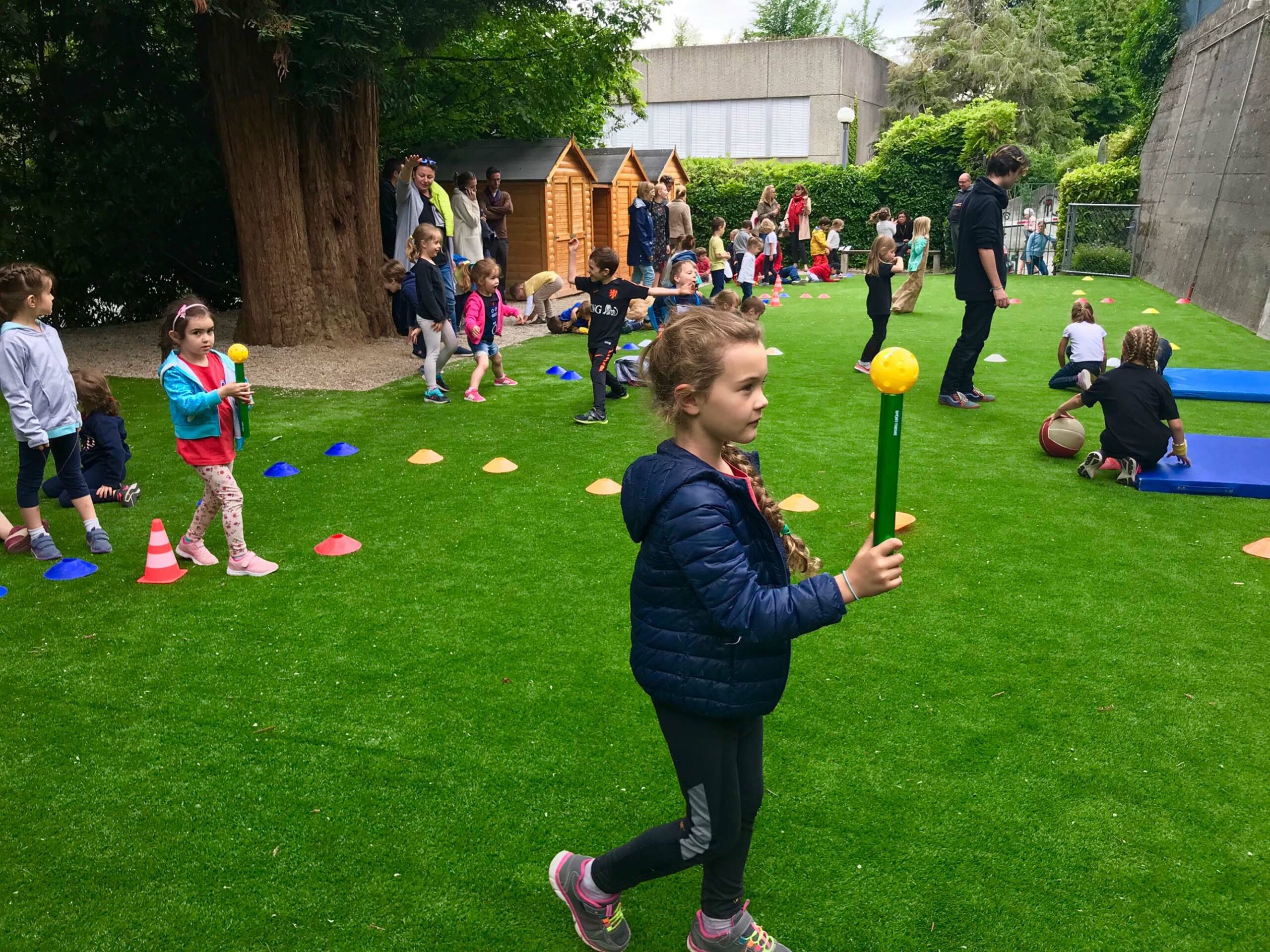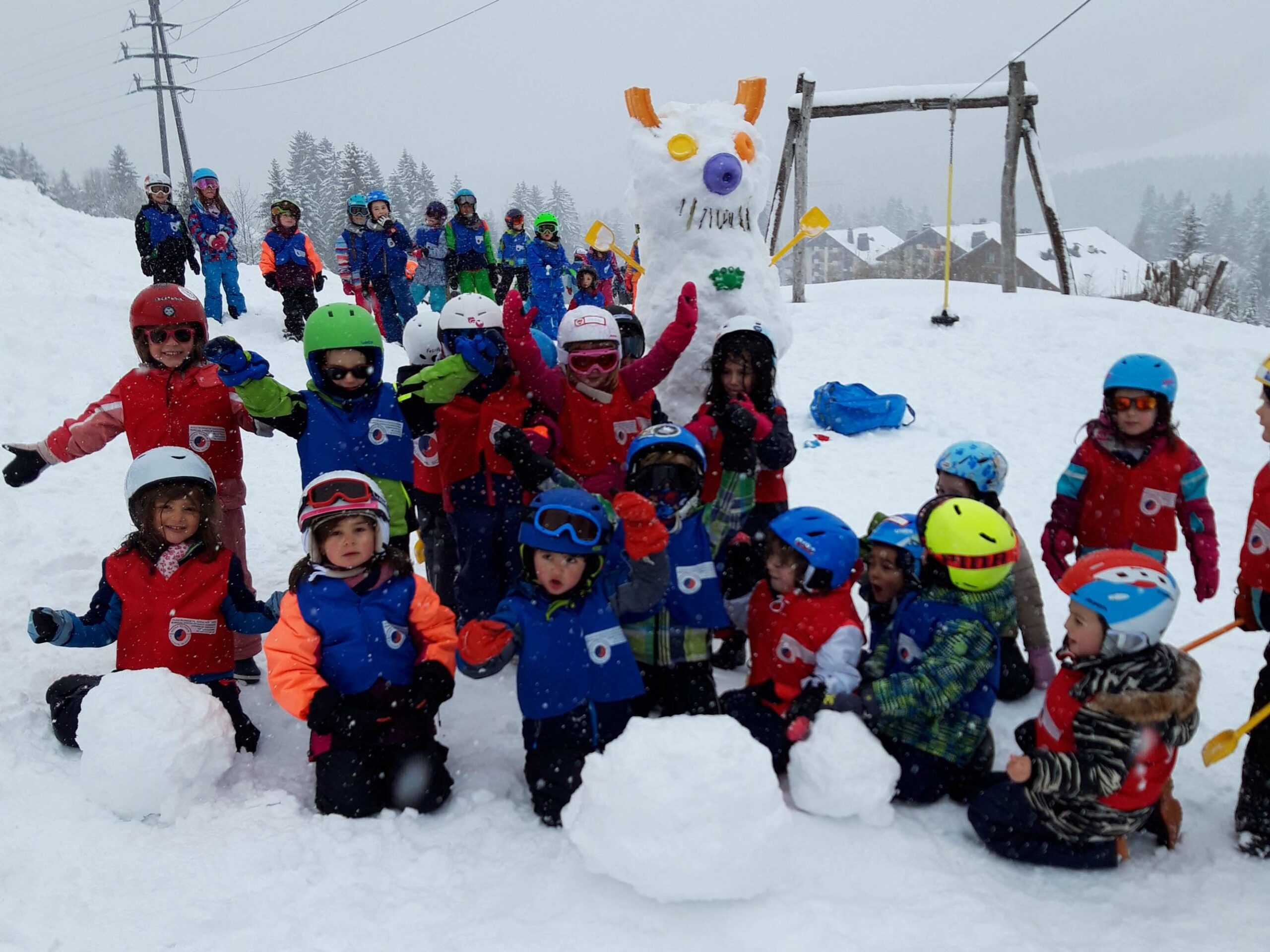 Winter Camps
The grown-ups are all at ski camp in the Bernese Alps for the week, and the little ones also get a special week but do not go so far away.
Over the three years the theme changes, it can be the Winter Olympic Games, the Discovery of Switzerland or Exploring the North Pole. They have various activities around the themes and also take advantage of the close by Swiss Alp, where they go tobogganing, snowshoeing and simply play in the snow a build snowmen.
Summer Camp
At the end of the year, when the grown-ups go sailing, the little ones also have a special week, with a theme that changes over three years.
Discovering Careers gives them the chance to see – for real! – We visit the fire brigade, we go on a boat and visit the captain, we see how a rubbish tip works; some parents are also invited to the school to present their profession.
The tour of Lake Geneva on the beautiful CGN boats allows us to explore various sites and attractions such as the Musée du Jeu, the Aigles du Léman, the Jardin des Senteurs and the Swiss Vapeur Park.
The Farm Camp is always very popular, and the children discover the meadows and fields, the goats and cows – they are shown how to milk – the vegetable garden – they make a good soup, make butter and have lots of fun. On the last day, they join the grown-ups for the famous end-of-year picnic – everyone loves watermelon and Vaudois speciality, the "salée"!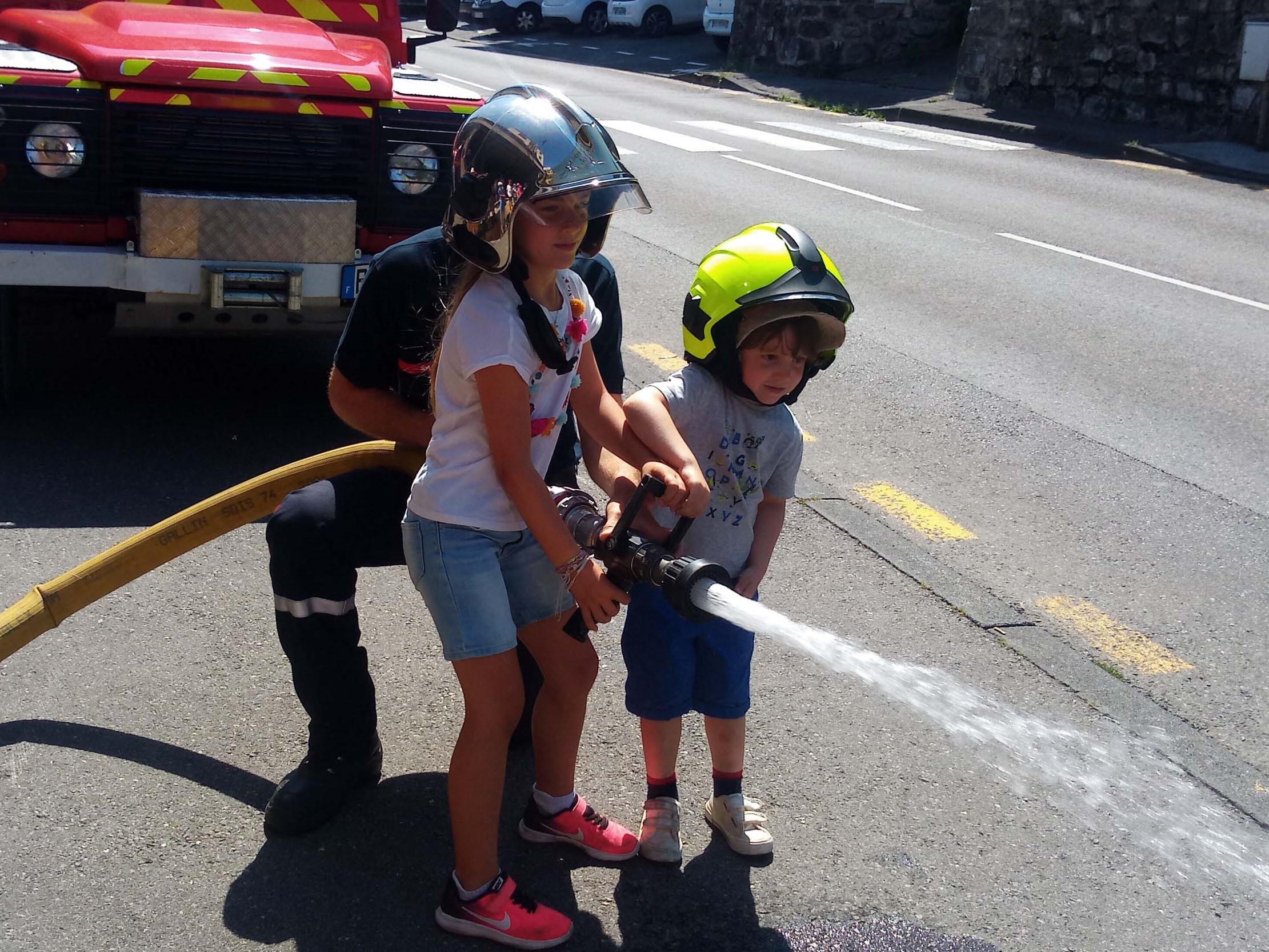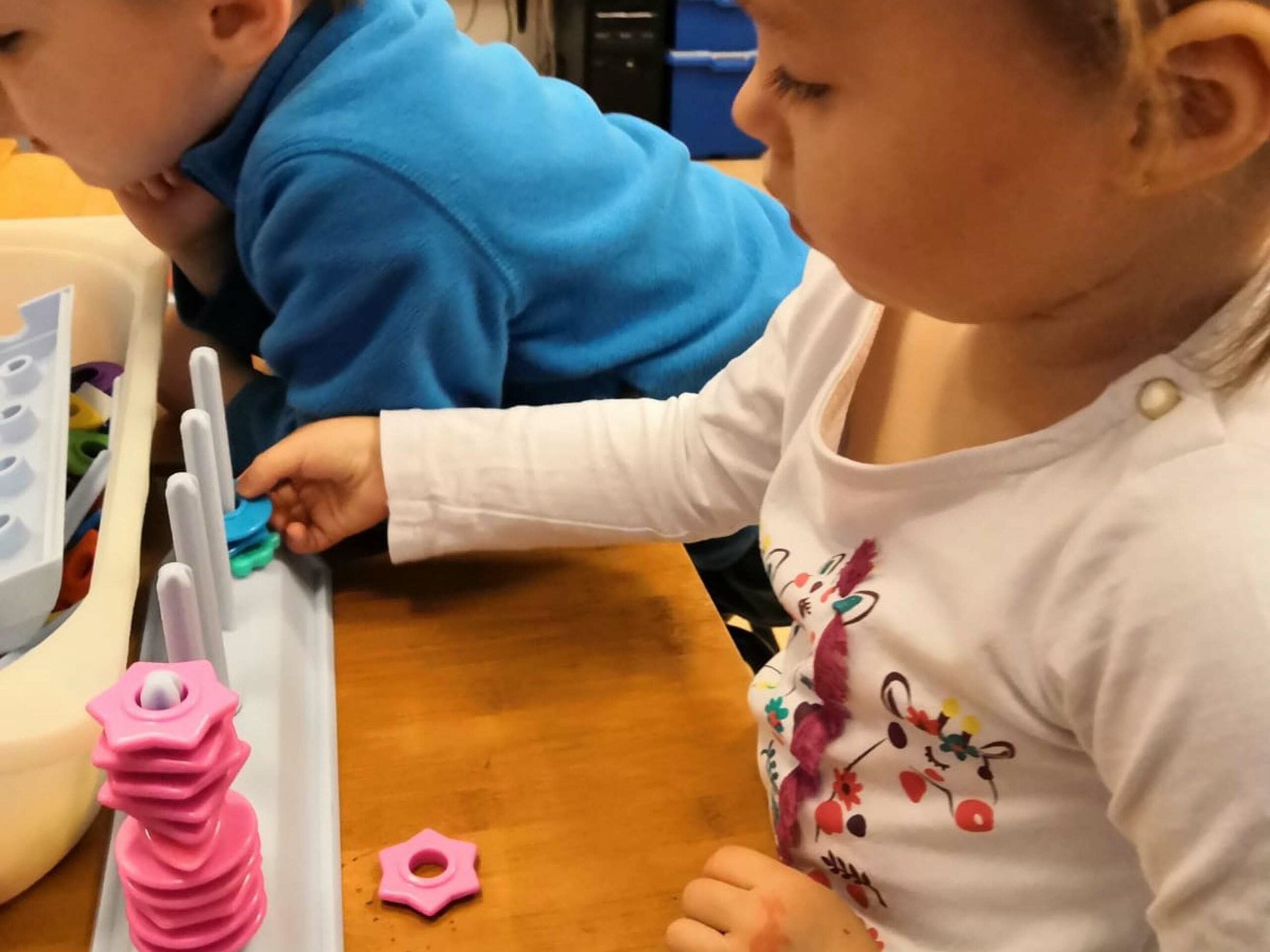 Information and Evaluation
Watching the children's progress is one of the great pleasures that teachers and parents share. To enable families to get involved in their children's discoveries, a red bag is sent home once a month with the children's latest work. Each term, a detailed report on progress in each area is given to parents, who can then meet the teachers.
After-school activities – it's over here!
The after-school activities have been designed to complement and enrich the children's experience, while providing a fun and peaceful way to end the day. Try your hand at mini violins, or take part in the music workshop; go to the theatre on Wednesday afternoons, or listen to and mime storytelling; improve your skills in all kinds of arts and crafts, or construction: it's well worth exploring our catalogue of activities: over here!