Presentation
Our school is located in the heart of Lausanne, with a large courtyard planted with trees and flowers, a vegetable patch and playground, a lovely terrace and a large sports field at the back that can be used all year round.
The classrooms occupy the first two floors of a charming and listed historical Art Deco building, built for Lemania School in 1913. Our classrooms are bright and sunny, cool in summer and well-equipped without unnecessary luxury.
We have opted for solidity and simplicity; most of the work is done at the table, but computers and tablets are also available for specific tasks – for example, individual work or internet research in science.
Interactive whiteboards are used in all classes and on an ad hoc basis, typically in science.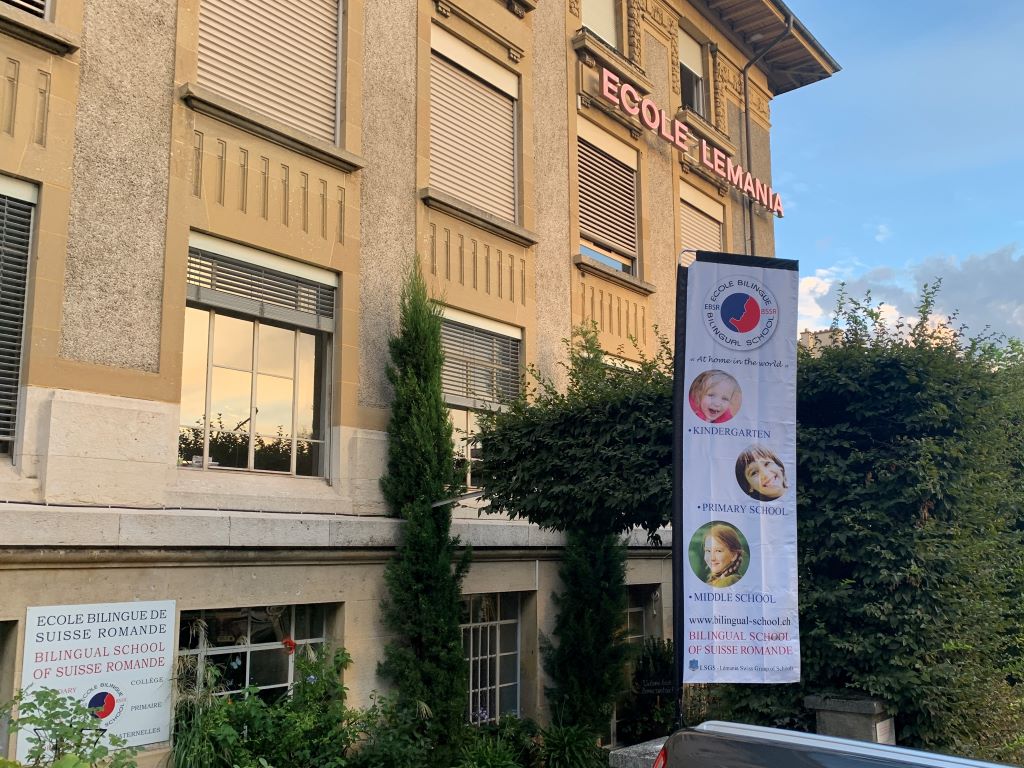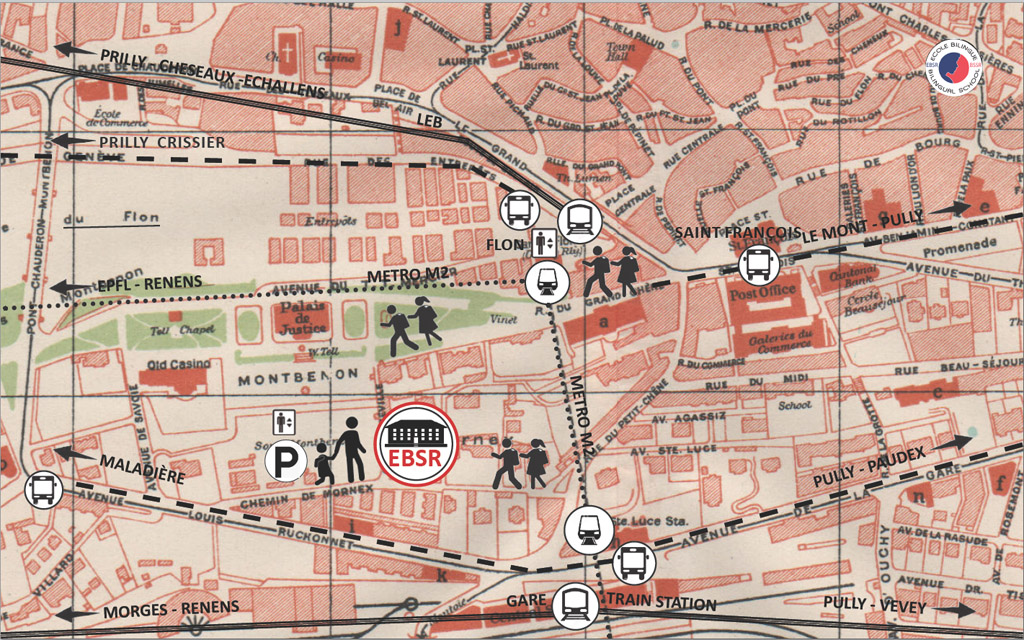 Getting to school
EBSR is located in the city centre, between the SBB station, the LEB station, the Place Saint-François buses and the Flon.
It is very easy to get here by public transport, and we recommend it.
Drop-off by car is also possible. From the age of 6, children can be dropped off in front of the entrance; but the Enfantines have to be taken to class, so parking is required.
We can organise transport for children; there is currently a route to Morges. Please contact us for more information.
Nature in the city
The children have a beautiful flower-filled terrace, a large courtyard with a huge sandpit, a play structure, a vegetable patch and a flower garden shaded by many beautiful trees.
Far from concrete courtyards, this leafy environment, full of birds and all sorts of little creatures, lettuces or tomatoes, grapes or kiwis, geraniums or lilies and roses, is an exceptional space for exploration: it allows children to see, touch and smell the fruit, leaves and flowers. To eat them, however, they have to take part in the Wednesday cooking workshop…
Inside, the mice in the terrariums are acrobats we never tire of watching, the majestic fish frolic in their huge aquarium, while the guinea pigs beg for a treat from everyone who passes by. Many families are delighted that the school is in charge of the pets… which they don't have to have at home.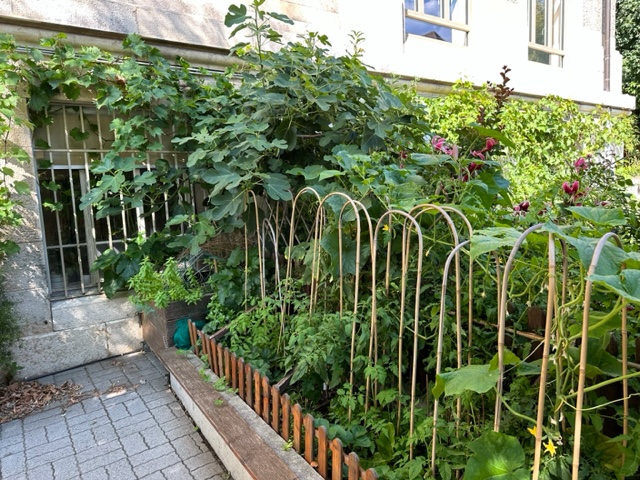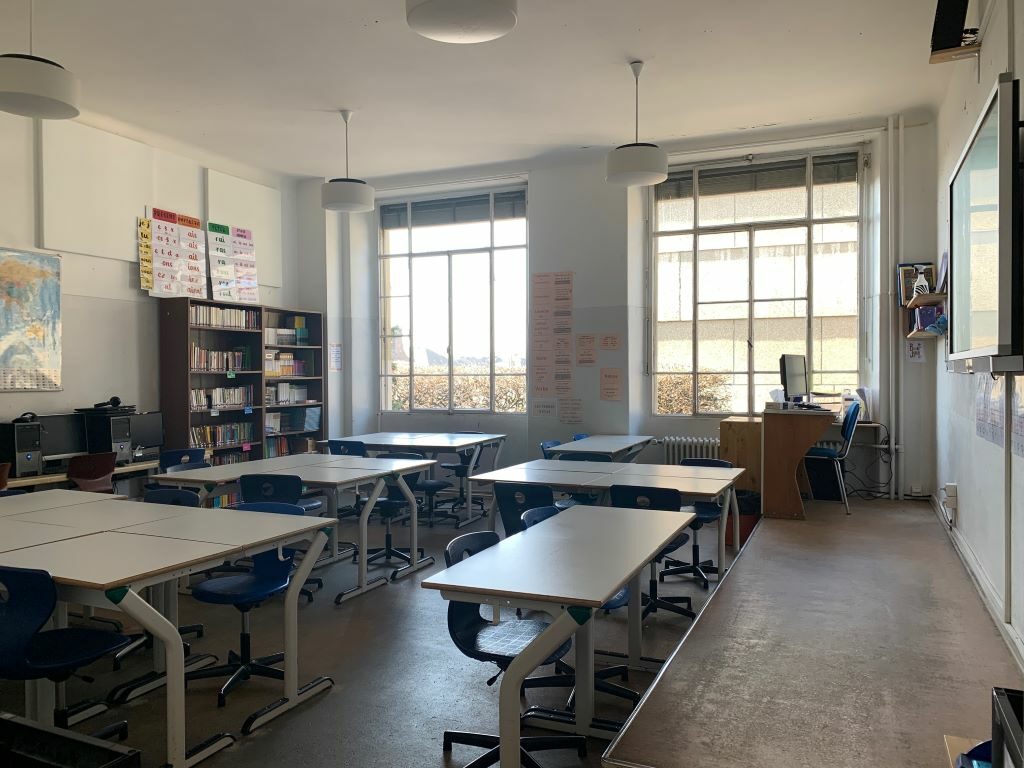 Well-equipped classrooms
The Lemania building we rent was designed as a school from the outset. The rooms are well-proportioned and easily accommodate our classes.
The high-ceilinged classrooms are large and bright. Some classrooms have kept their classical look while others have been been extensively modernised.
But all the classrooms have an interactive whiteboard and a number of desktop or laptop computers. The tables are generally individual to allow for more flexible organisation.
Ipads can be borrowed by teachers for specific projects.
Science Laboratory
We are lucky enough to share a state-of-the-art, fully equipped science laboratory with the IB section of Lemania School. Our secondary school students use it to carry out a wide range of physics and chemistry experiments.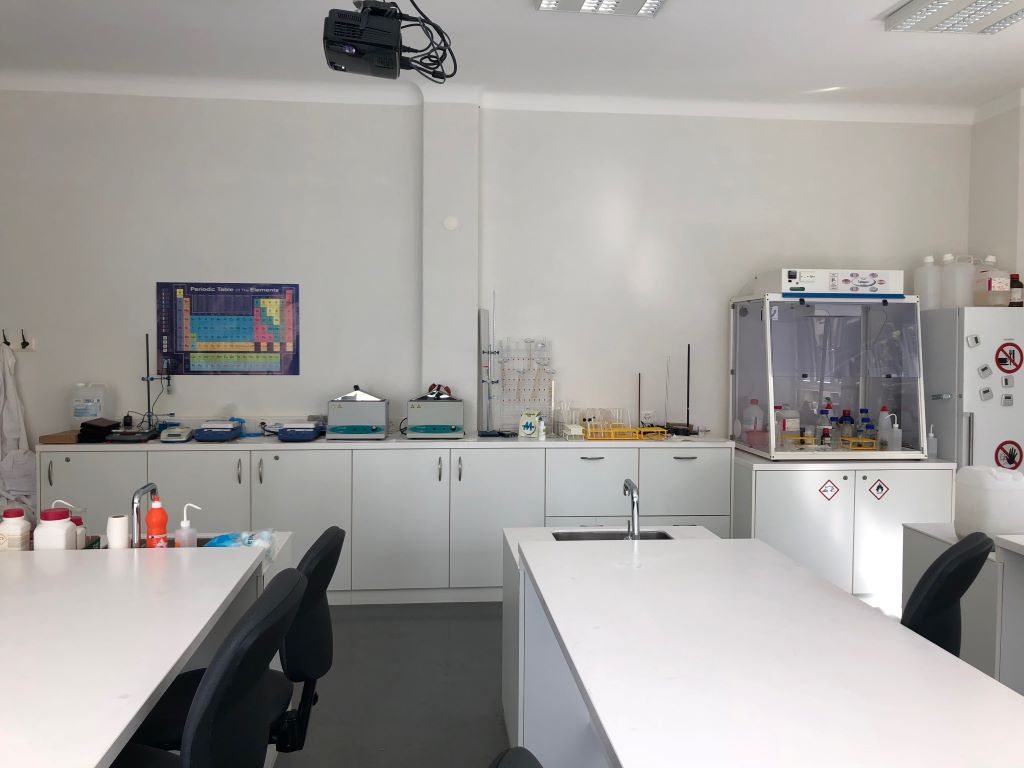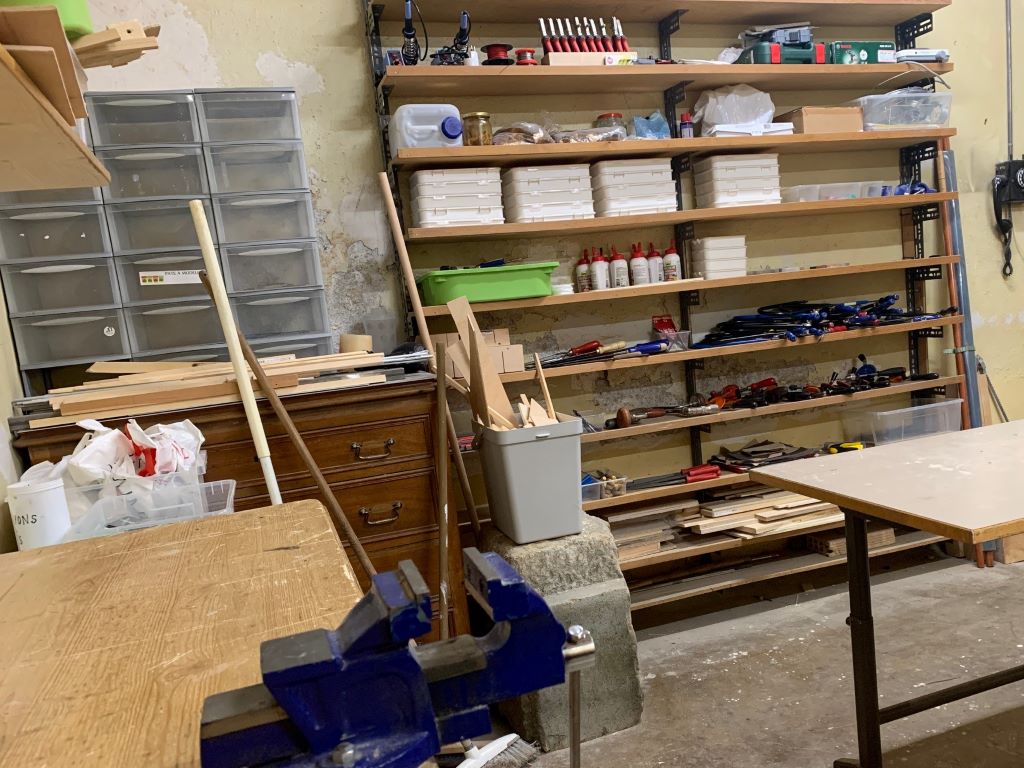 Craft workshop
In the maze of the ground floor we have recently been able to set up a real woodworking workshop, which we use for STEM (Science, Technology, Engineering and Mathematics) classes.
Pupils not only have to meet a technological and scientific challenge (for example, building a self-propelled vehicle that drives as far as possible), but also learn how to use a hammer, a saw, a drill, a screwdriver and so on.
Sports field
We have fully renovated our sports field a few years ago. It can now be used all year round, thanks to its artificial turf surface. Shaded by huge cedar trees, it's calm and cool in summer.
Sheds house our sports equipment.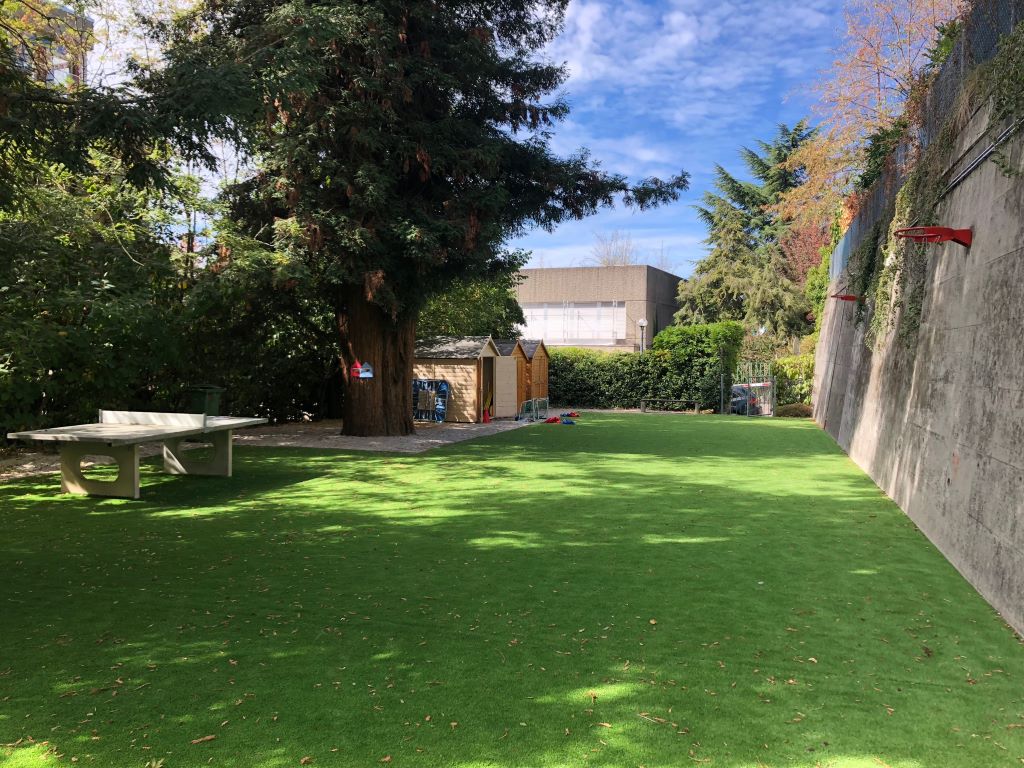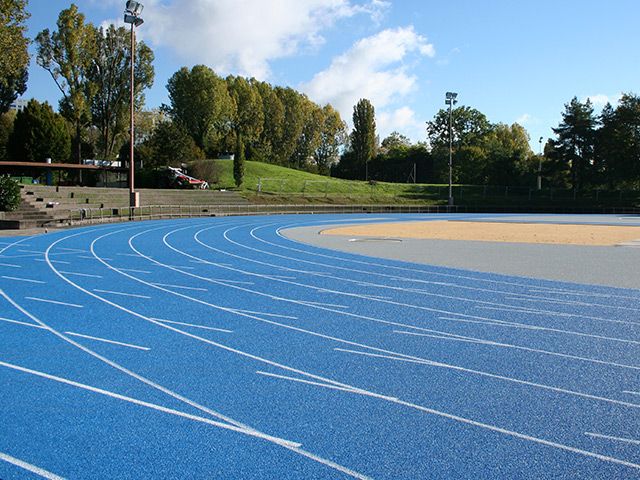 Olympic Equipments
Lausanne is an Olympic city, and all you have to do is go to the lakeside to find a wide variety of high-quality facilities. The Stade Pierre-de-Coubertin and the Stade de Vidy offer a wide range of possibilites, and we often go there for athletics, uni-hockey or other team sports. We also organise the Sports Games in Vidy.
Swimming Pool
The Mont-Repos Swimming Pool is 15 minutes away, and walking there is a good warming up. Swimming is included in the regular sports classes and also offered as an afterschool activity.